Very Normal, Very Normal or On Utopia of Urban Rights
Very normal, very normal or On utopia of urban rights is an exploration on the potential for a utopian visions of the future for Sarajevo. This search for utopia, as a motivation for a better society, is set against the backdrop of a (still unachievable) city for everyone and everyday, as described in the European Urban Charter. Once confronted with views and insightful opinions of thirteen Sarajevans, the normative character of this document on urban rights quickly gains utopian status. How much a "normal" future became utopian?
In the publication Very Normal, Very, Normal or On Utopia Of Urban Rights – the European Urban Charter (1992 and 2008) is quoted as a starting point for discussion on Urban Rights that are listed in the Charters.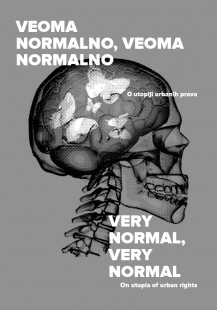 Very normal, very normal is the fourth part of the Cities Log research series, initiated by STEALTH.inlimited and investigating the contemporary development of cities in the region of post-Yugoslavia and Albania. The first edition of the Cities Log has been made on the occasion of the 4th Tirana International Contemporary Arts Biannual (2009). The second edition, A(u)ction – Novi Sad's Log of Spaces Between Personal Interests and Public Needs (2010), was made with Center_kuda.org and collaborators from Novi Sad. The third edition, What Pazar has in common(s)? (2012), through a collaboration with Emil Jurcan (Pulska Grupa) and the civil society organisation Urban In from Novi Pazar, within the framework of the project INtoOUTREACH. Nearly 75 conversation partners contributed to the formation of the Cities Log so far. The Cities Log has been initiated through the project Individual Utopia Now and Then.
Cities Log – Sarajevo research resulted in publication Very Normal, Very Normal or On Utopia of Urban Rights. Editors: STEALTH.unlimited (Ana Džokić, Marc Neelen), Asja Hafner & Anja Bogojević Book and cover design and illustrations: Enes Huseinčehajić
Conversation partners Sarajevo: Stjepan Roš, Nebojša Jovanović, Faruk Šehić, Sabina Ćudić, Nejra Nuna Čengić, Amer Tikveša, Namik Kabil, Slobodan Anđelić, Saša Madacki, Suada Kapić, Adnan Harambašić, Zoran Ćatić, Nihad Čengić.
We wish to thank them for thirteen insightful conversations and deliberations in and on Sarajevo.
Video documentation recordings: Ervin Prašljivić
Video documentation editing: Asja Hafner

Video Documentation